Subaru is donating 50 million meals.*

First Team Subaru Norfolk along with all Coastal Virginia Area Subaru Retailers have teamed up to donate meals to local food banks including a donation of 181,576 meals to the Foodbank of Southeastern Virginia and the Eastern Shore.

This helps contribute to the total 1,592,886 meals being donated through Feeding America in the state of Virginia.
The pandemic that is devastating our country has left hundreds of thousands out of work and unable to feed themselves or their families. Subaru wants to help. Through the Subaru Love Promise, a commitment to support our communities, Subaru and its retailers across the country are making a donation to provide 50 Million Meals to Feeding America. This action, called Subaru Loves to Help, is part of Subaru's effort to make meals available at 199 local food banks across the country.

Subaru Loves to Help, just one part of the Subaru Love Promise, it's one more reason why Subaru is more than a car company.

Join Subaru in Feeding America
$1 helps provide at least 10 meals secured by Feeding America on behalf of local member food banks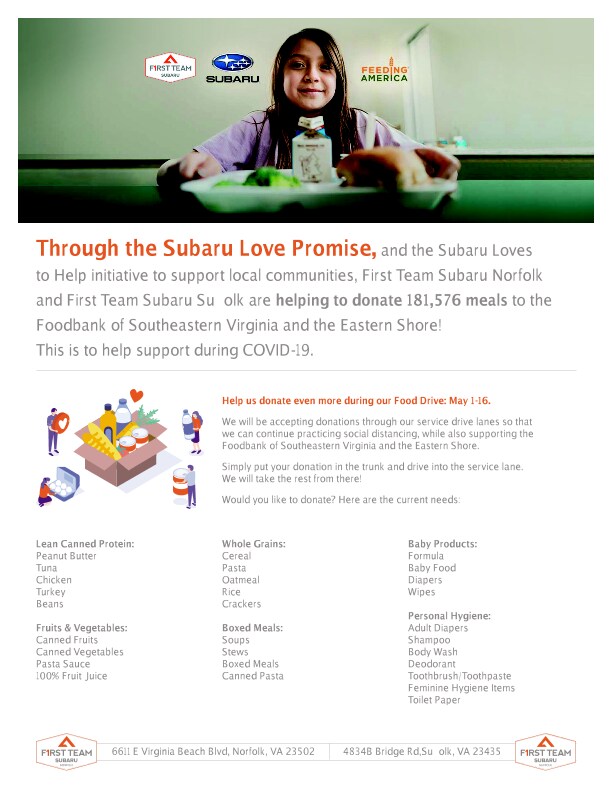 RSVP To This Event
Hours
Monday

09:00am - 08:00pm

Tuesday

09:00am - 08:00pm

Wednesday

09:00am - 08:00pm

Thursday

09:00am - 08:00pm

Friday

09:00am - 08:00pm

Saturday

09:00am - 06:00pm

Sunday

Closed - Open Last 2 Sundays Every Month